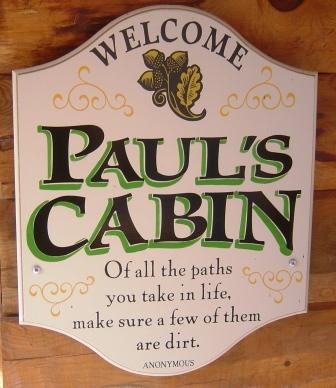 FREQUENTLY ASKED QUESTIONS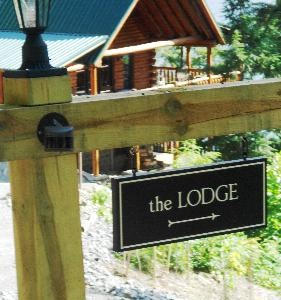 What's the maximum group size that can stay in the Cabin and the Lodge?

The Cabin has beds for 8 people; the Lodge has bedding for 12. If you have a larger group, please contact us.

How many bedrooms and bathrooms?

The Cabin has four bedrooms and three bathrooms; the Lodge has 4/5 bedrooms and three bathrooms. The fifth bedroom is the Master bonus room that can be used as a bedroom.

Are they air-conditioned?

Yes ... they are among the few rentals on Skaneateles with central air. You'll find yourself outdoors a lot, however, as you'll be attracted to the gentle lake breezes on our property.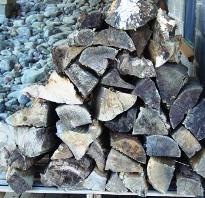 Are the Cabin and Lodge heated?

Yes. The Cabin also has a fireplace with a heatilator (works like a wood stove). We provide firewood.

Are linens provided?

Hotel quality fresh linens are dressed on our luxury grade hotel mattresses. (600 thread count Egyptian cotton on queens and kings) So is soap, shampoo, conditioner, moisturizer and bubble bath salts . At the Cabin we provide courtesy beach towels; the Lodge provides spa robes. Everything is completely ready to enjoy when you arrive.

How private is it? I don't want noise and commotion.

You've come to the right place. The cabin is a mile off a country road, thru an oak forest to a quiet spot surrounded by preserved land with hills, gorges and streams that you can explore for miles. A perfect place for public figures to "get away".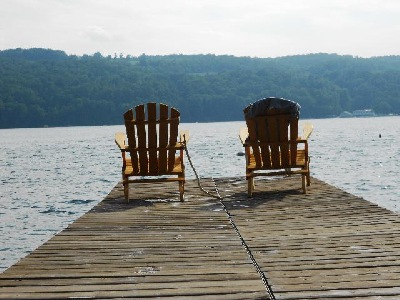 Is Skaneateles a clean lake?

Skaneateles claims to be the 2nd purest lake in the world; its' limestone floor and spring fed water make it so clean. Skaneateles is the water supply for Central New York. Some locals drink the water right from the lake -- nonetheless, all of our great tasting water is filtered and purified.

Are boats allowed?

Absolutely. You'll need to launch your boat initially at the public boat launch or rent a boat from the Sailboat Shop, Skaneateles Marina or Sevey's Marina. Sometimes Paul's Pontoon is available .... ask for details. You can moor your boat off our docks during your stay. (mooring provided) You can't, however, tie your boat to our dock as it will damage both your boat and our dock.

If you're interested in kayaks, we have a connection who can deliver them directly to you for your use.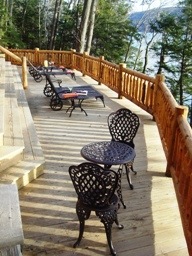 What about sunshine?

If you're the type who loves those hot, humid summer vacations with miserable children, then this isn't your type of vacation. Our property is positioned perfectly on the lake to enjoy the gentle lake breezes while the hills and trees filter the direct sunlight. Often times it can be 90 degrees in town, but with the shade and breeze it feels like 70 on our property.

But we want to tan.

OK, we do have a dedicated "open space" for those who have to have the sun (we don't). Check out the picture of our sun deck at the Cabin. .....pretty nice huh? The Lodge also has a sun area.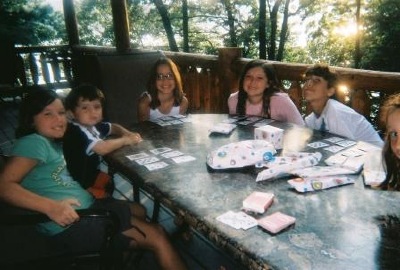 What will the kids do?

Our kids love to go to the Cabin and the Lodge ..... to play outside in the woods and the lake. We love to see our kids with their "summer camp look" from campfires, swimming and playing in the woods. Our kids save the home theater, internet, books and games for rainy days and night time only. It's fun to see our kids play outside ... like we used to.


Is Skaneateles a popular vacation spot?

President and Hillary Clinton, movie stars, authors, musicians and professional athletes have vacationed or live on Skaneateles. This exclusive lake has several grand estates on its shores. At the mouth of Skaneateles is a great village with quaint shops, boutiques and excellent restaurants. There are beaches, marinas, boat rentals, summer concerts, wineries, great ice cream and more.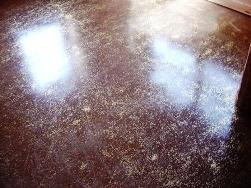 I feel awkward staying in someone's "house".

We built, decorated and furnished the homes with guests in mind. If you can visualize a lodge on a deserted island, then you're pretty close. We really feel that this is a unique experience.

I'm a neat freak.

So am I. If the Cabin and the Lodge don't SPARKLE when you arrive, then we're disappointed. Our expectations are very demanding. You won't find any finger prints on the windows or dust bunnies under the beds. The floors and surfaces shine and the beds are made with fresh hotel linens on new luxury grade hotel mattresses. We pay a premium for this service, but feel that it's worth it.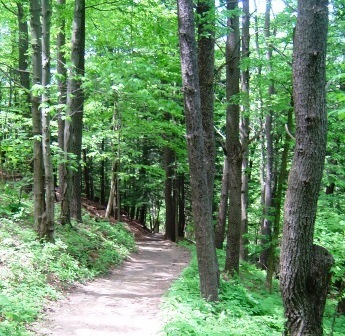 Any trees and wildlife?

You obviously haven't looked at the pictures on the web site. Our spot reminds us of Alaska. It is absolutely beautiful. The land is rugged, but that adds to the beauty. We're known as the "crazy people" who actually built a log home on an impossible building site. The oak forests surrounding the property are the home to deer, wild turkey, rabbits and raccoons.

Any lions and tigers and bears?

Oh my ... no.



How early should we make summer reservations?

It's hard to find rentals on the 15 mile lake. Usually, summer rentals are booked solid by early spring and we're receiving reservations a year in advance. (the response to our property has been overwhelming) There are not enough rental properties to meet demand ... especially upscale rentals. Quite frankly, there are no properties like Paul's.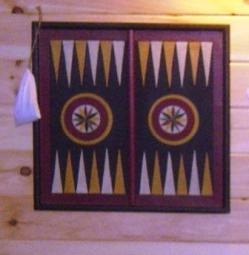 Your rates seem expensive.

Paul's Cabin and Lodge aren't for everyone. When you compare these homes with what the "camps" and "cottages" on Skaneateles charge, then you'll agree that it's probably a bargain. (This is not "Grandma's Cottage" that smells like mold and the broken screen door slams with the wind.) We target a discerning clientele with unique tastes and interests.


Who is a typical guest?

You name it. We've had folks from California, Texas, Georgia, North Carolina, Oregon, Florida, Michigan, Ohio, Kansas, Minnesota, Georgia, Washington and all the North Eastern States. We've even had guests find us from Canada, New Zealand, Denmark and England as well as the local guests within a few hours drive. Guests from all occupations including a State Senator, a Federal Judge, College Professors, a Professional Athlete, Lawyers, a popular Author, Doctors, a Symphony Conductor, CEOs, a Professional Musician...... Last year, we were completely sold out from Memorial Day to Thanksgiving. (Summer weeks and offseason weekends)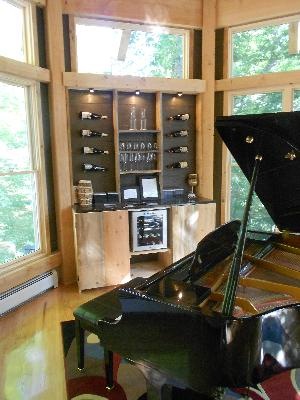 Can we book both properties?


Sure you can. Both properties are close enough to enjoy each other, but not so close that you'll end up hating each other. The only catch is that you can't pile up both groups at one property at the same time. We have great neighbors and we prohibit twenty people from getting together for dinner and fireworks. We will work with you on this to make it an enjoyable experience for everyone.

Do we get a special rate if we book both places.

The short answer is no. Typically, I'm usually not one to barter. Our properties sell out every year and they are in demand. We feel that we offer a very unique experience. If you see that we aren't booked for a time period at the last minute, then shoot me a message and we can make a deal. Deals are rare.

Come on, Paul .... everyone makes a deal.

Paul's postulate: "Guests who dicker eventually bicker and ultimately are more trouble than they're worth". Move on.

What about fall availability?

Skaneateles Lake is a deep glacier lake and usually holds its warmth for some great fall swimming. If you love the change of seasons, then you will appreciate the mature fall colors, the wood fireplace, the wine country and nature's quiet voice.

Spring time?

It's glorious watching nature come alive in the spring. If you like to fish, the lake trout hit like crazy in April and May.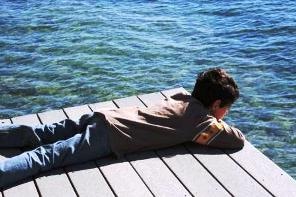 Exactly where is Skaneateles?

Skaneateles is one of New York's Finger Lakes, about 20 miles from Syracuse.

How do I get to Paul's Cabin and Paul's Lodge?

That's the tricky part. We recommend four wheel drive in the summer, but it is virtually necessary in the early Spring and late Fall. In the winter, we provide a Snow Cat for guest transportation. We drive our two wheel drive cars down there, but we know the roads. We make no promises.

What if I get lost in the middle of nowhere?

For this reason, we provide a personal escort appointment for check-in. The escort will lead you to the cabin/lodge (assuring you that "the drive" is safe), disarm the security systems and give you a hands-on tour of the property and its' workings. (GPS units, like our Garmen, somehow lead you straight thru the forest to the front door.) We also provide a detailed Guest Instruction Manual so that you can enjoy all of the amenities that we provide.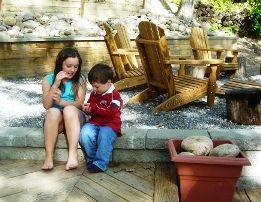 I've seen your great pictures, but I'm concerned about safety for my little kids with the lake bluff.

So were we. Consequently we have finished construction on a boardwalk at the Cabin that spans the entire 200 feet of the lakefront property. It was designed to make our property safe to enjoy for our little ones and for your little ones. We still insist to our guests that they monitor their children since nothing is completely safe, particularly natural settings. We have really gone to great lengths to keep our property natural and safe. At the Lodge, we will construct a similar boardwalk in the future.

Is the lake accessible for Great Grandma?

I told my builder: "that if by the grace of God, I am alive when I am 90 years old...... I want to walk down to the lake". The boardwalk was built with this in mind. There are long, level walking spans, with gradual steps mixed in throughout. We consider the boardwalk the coup de grace of our beautiful retreat. It adds safety and a level feel to the property that is built into the side of a forested mountain.

At the Lodge, the grade to the lake is more steep and probably not suitable for Great Grandma... but Grandma will be fine if she takes it slowly down the stairs. Getting up can be tiring however.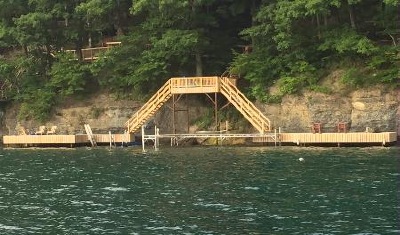 In 2015, we connected the boardwalks at the Cabin and the Lodge to a common overlook and lake access. The overlook deck is a great spot to hang out during the day because it's shaded from the canopy of trees. At night it's a great spot to see the sunset. From the overlook, each property has its own dock. This picture makes the docks look closer together than they really are. It's a massive, permanent structure (no wabble) and each dock is at least 50 feet apart.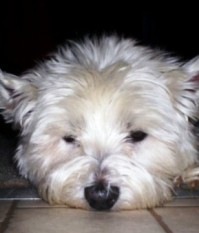 May we bring pets to the cabin?

Sorry, no.

But my dog is perfect. He's small and house trained and never causes any problems.

That's what they all say. Get a dog sitter.... absence will make the heart grow fonder.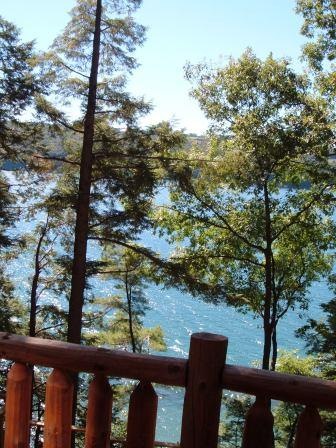 Is smoking allowed?

Again, no.

Will you know the difference?

Yes we will. We have installed special smoking detectors in the homes as part of the security systems which will alert us that you've been smoking. When you see the properties, you'll know why we're so fussy. Any de-fumigation necessary will be deducted from your deposit. (we return security deposits quickly, but if you smoke in my beautiful home ... consider your deposit gone.) Non smokers will appreciate the original log and timber frame smells of our "fresh" homes.



Any other silly policies?

Yes. We never "show" the cabin/lodge to prospective guests. We find this to be an invasion on our guests' privacy and we don't share the property address for security reasons.

And ... we don't like shoes. We are neat freaks and presumably so are you. Please leave them at the front door and not all over our white carpets.

A complete list of our policies can be found on the policy page.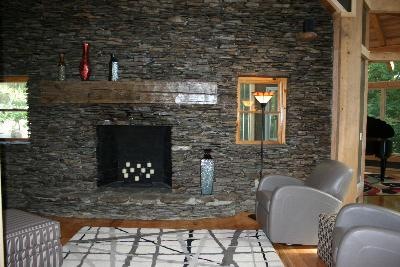 Paul, honestly now, which is better: the Cabin or the Lodge? I can't decide.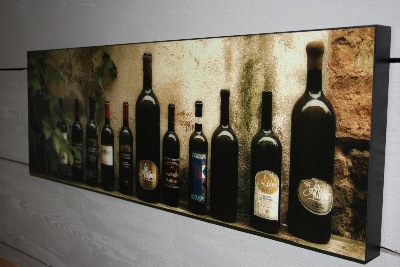 We built Paul's Lodge to be on par with Paul's Cabin. We were careful to not let the properties compete against each other. In a nutshell, the two properties are themed to attract different guests needs and personalities. Your gut will tell you which one is for you.

One more piece of advice from Paul: both of these glasses are plenty full. If you decide to stay at the Cabin, its hard not to be envious of the spa, wine cellar and piano at the Lodge. But don't worry, perhaps the guests at the Lodge covet your campfire perch, the home theater and the permanent lake dock area.

We have a commandment at Paul's: "Thou shall not covet thy neighbors cabin".

On par. Different. You decide.



We are still split. Half of us want the Lodge and the other half want the Cabin. Thoughts?


Yeah. Let the highest ranking female in the group make the decision. Everyone will be happier and there will be less complaining.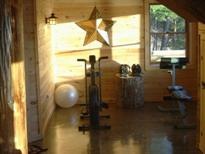 I don't want to relax so much that I get fat.

I can appreciate that. As a fitness enthusiast, I have a fitness gym in the basement with cardio and weight equipment at the Cabin. I think that you'll get plenty of exercise hiking around the property too.

At the Lodge there is no exercise gym; you'll probably just get fatter.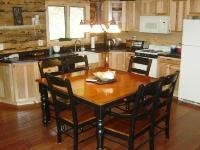 Is the kitchen stocked?

Just bring food. Stove, refrigerator, microwave, dishwasher, toaster, cooking utensils, dishes and coffee maker are all included. So are the little things, like salt/pepper, spices, condiments, dishwasher and laundry detergent, paper products, napkins, dish and paper dish towels, Starbucks coffee and a few other surprises. We just ask that our guests work together, to restock items when they run out so that everyone can share in the convenience.

Really ... you mean I don't have to buy ketchup, mustard, salt and pepper etc?

When I rent a vacation home and they leave only one dishwasher tablet for me my blood boils. Your blood won't boil at Paul's. We decided to provide a vacation property like no other.

Starbucks?

A cup of fresh ground Starbucks coffee at 6:00 AM, while rocking quietly on the front porch while enjoying nature and Skaneateles is worth the price of admission itself.

Washer/Dryer?

Yes/Yes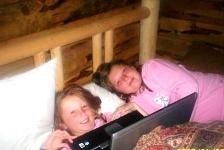 Any modern communications?

At the Cabin we have a home theater in the basement that includes a projection system, surround sound, DVD and VCR. We even provide the popcorn. Also a Sirius satellite radio/Ipod system that is zoned for all areas of the property. We do not have television stations, which we see as a positive at the Cabin.

At the Lodge we have a player grand piano with over 100 hours of musical selections. Dish Network satellite television on flat screens. We also have a "whole house" CD player with a connection for your music device.

At both properties, WI-Fi Internet is provided... please bring your laptop and your "know-how". We also restrict the amount of data that is downloaded (no YouTube and NetFlix). Telephone with free long distance service. Some mobile phones don't work "down there" (we also see that as a positive).

.


Barbeque Grill?

Yes.

At the cabin we have an old fashioned park grill and a campfire pit. We provide charcoal, lighter fluid, matches and firewood. We decided against the gas grill to force you to start a fire and do a little "camping". Your grill food will taste awesome.

At the Lodge, however, we have two barbeque gas grills. Those guests tend to be lazier.


We are so lazy we don't even want to cook.

Guess what ... we even have an executive chef at your beckon call. He can cater and deliver some or all of your meals. He's an amazing chef who prepares Four Star meals with an awesome resume of experiences. He can "wow" your group.

We want to fish.

Great. You can even eat the fish from the pristine waters of Skaneateles. Most rainbow trout are 2-3lb class, but some 25-30 lb lake trout have been taken. (Skaneateles is so deep, that we have some of the biggest lakers in the U.S.) We can recommend a charter service, or you can fish right off the dock.

Won't the fish bite me?

Come 'on now. It's time to get over that fear. There are no sharks in fresh water.


Some call it a classic, others call it a piece of junk. The pontoon is an oldie with new carpet, seats and a 60 hp engine in 2011. It's reliable and Paul likes it just fine. When you look into pricing for pontoon rentals on Skaneateles, you might like it just fine too!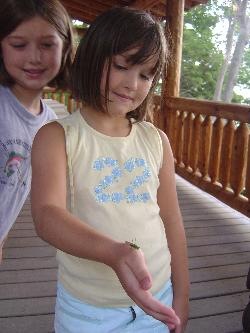 What about bugs?

None of those black flies that invade the Adirondacks. The man who sold us the property years ago told us at the time that there were no bugs (which, of course, we didn't believe). After spending time there, we can say that it is indeed practically "bug-less" of mosquitoes and black flies.

Rattle snakes, poison ivy or man eating plants?

Nope.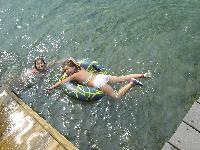 How about swimming?

The limestone floor of Skaneateles means no mud or gunk -- nice clean swimming.

What, no pool?

Our pool is 15 miles long, a mile wide, two hundred feet deep and fifty feet from the cabin with no chlorine or salt water. Life's rough.




Ok one last time. I've seen pictures of beautiful homes on the internet but the pictures are deceiving.

It's common for our guests to tell us that it's even more beautiful than the pictures. There's a couple of nice cabins as neighbors an acre apart, but don't worry about being deceived. The next home is a mile straight thru the forest. It's even more spectacular than we can show on this website.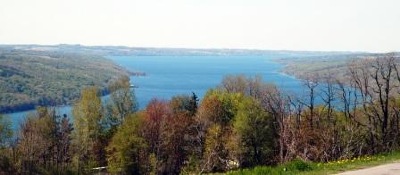 How do you pronounce Skaneateles?

Skinny -- atlas. Unless you're a local, then you pronounce it as Skan--ee--ad -- a --less.

How come I've never heard of Skaneateles?

Sometimes the finest things in life are purposely kept secret. Also, since it is such a desirable location, there really aren't a lot of quality rental spots. It hasn't become a tourist trap. Skaneateles is a beautiful, upscale town -- especially in the summertime.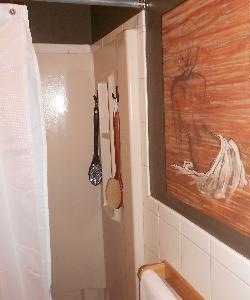 I have a million questions for you.

Oh no ... you're not one of them are you? I love questions that aren't covered on the website. In fact, you can find the answer to almost every question I have ever been asked. But if you're calling about special exceptions ... sorry. The dog can't come, you can't smoke indoors, you can't bring 15 people with air mattresses, you can't look over the property while you're in town and I'm really not interested in swapping a week with you for your beautiful time share in Outer Slobovia. It is what it is. And it's spectacular.

Paul's Cabin, Paul's Lodge, Paul's Pontoon, Paul's Mule .... is Paul full of himself?

Yeah, probably. Here's my theory: when you put your name on something then it becomes a part of you. I could have named the properties Crystal Clear Cabin or Lovers Lodge. But, I put my name on them because I stand behind them. And I stand behind excellence.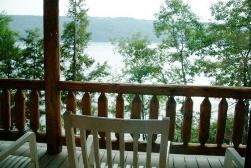 We don't want to do anything! We're coming there to relax!

That's exactly the point. It's a great place to forget the hustle and bustle of daily life. After you pick up a few groceries, the cabin has everything you need to slow down as you rejuvenate your soul. You will leave feeling relaxed and refreshed..... guaranteed.

Your properties sound beautiful.

Thanks, we're glad you like it. But what's the question?

Sorry, I guess I meant, where do we sign up? How do we get started?

Easy ... . just drop an E-mail (click) and we will walk you through the process. We're really good about returning emails promptly.