THE CABIN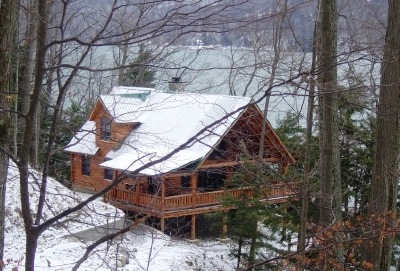 Paul's Cabin is a 2500 square foot Lok-N-Logs home with four bedrooms and three baths. The cabin is fully equipped for your stay and is impeccably cleaned prior to your arrival. Central air conditioning and new furnishings throughout the cabin provide an elegant atmosphere. Construction was completed Summer 2005.


Highlights of Paul's Cabin

* An authentic log home built on an impossible building site. A gem
tucked in the corner of the forest on beautiful Skaneateles Lake.

* Paul's Cabin has four bedrooms with beds for 8. Three bathrooms.

* Home theater, Sirius satellite radio system that is zoned throughout the
property and wifi internet.

* Covered porches and decks. Sun deck with spa lounge furniture.

* Elevated campfire perch overlooking the lake. Magically lit at night.

* Outdoor Hot tub seating for 8 (4-6 comfortably) with music and external inputs.

* Hammock deck in the woods for quiet rest.

* Large permanent dock and boardwalk for great lake access.

* Luxury hotel linens and towels. (Queen beds have 600 thread count
Egyptian cotton). Courtesy beach towels. Serviced professionally.
Kitchen stocked with all the essentials.

* Paul's Lodge is an acre away and the two properties are adjoined by a
gentle pathway. Close, but not too close, for multi-group rentals.

* Swimming, boating and fishing on 200 feet of private lake frontage just
75 feet from the lodge. Hiking for miles along private roads through
the forest and gorges. True privacy.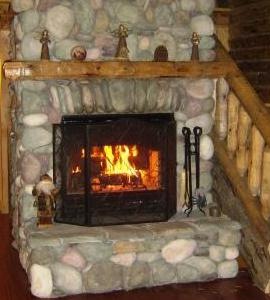 MAIN FLOOR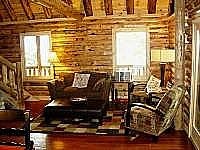 Living Room -- relax in the cathedral area with the soaring stone fireplace (firewood provided). Sirius radio is centered here with speakers wired throughout the property. One family told us that the living room chairs are the most comfortable they have ever sat in. (Comfort and relaxation is an important theme at Paul's Cabin)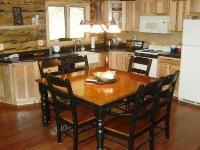 Kitchen -- comfy kitchen with hickory cabinets, country sink and Quartz countertops. Refrigerator, stove/oven, microwave and dishwasher. We've tried to eliminate all the hassles by providing dishes, pots, pans, towels, dishwasher soap, cooking utensils, coffee maker (and coffee), condiments, paper products and other staple "surprises". There's even an ice cream maker and a lobster pot.

Not only does the Cabin provide a full service kitchen ... we have an arrangement with an executive chef to cater four star meals directly to the property.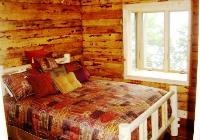 Grandma's Bedroom -- what a special place. This rooms window seat overlooks the lake. Queen size log bed, antique navy foot locker armoires and ceiling fan. Our beds are made with fresh hotel linens on new luxury grade hotel mattresses.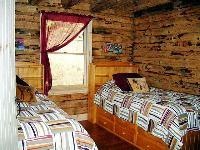 Kids Bedroom -- two twin beds with dresser space below. Linens, blankets provided. With windows that look out into the surrounding forest, guests can get the most amount of sleep in this room since the trees provide a darker room. This means more shut eye and more relaxation for you.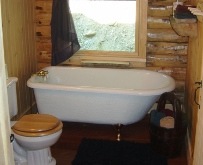 Main Bathroom -- take a relaxing bubble bath in the claw foot retro tub. Towels, soaps, shampoos and bubbles provided. All of our bathrooms shine with cleanliness. Paul's Cabin appeals to the "neat freak". Our maintenance goal is that the guest should not be able to find a fingerprint, crumb or a dust bunny. Every week the home is cleaned top to bottom -- windows, behind furniture, appliances etc. That's probably why so many guests return to Paul's Cabin.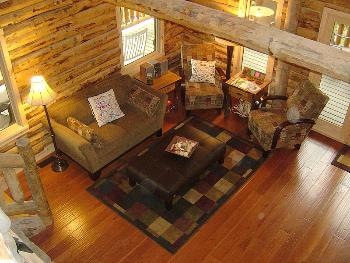 LOFT ESCAPE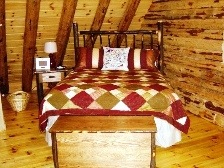 Master Bedroom -- you'll love this bed! A comfortable queen size hickory bed, dressed in hotel linens on a luxury grade hotel mattress, will guarantee some great sleep. Ceiling fan. ....... an en suite, private bathroom with a great glass and tile shower. The water volume is specially designed to deliver plenty of water from the overhead sunflower head. A lot of thought went into this shower's design.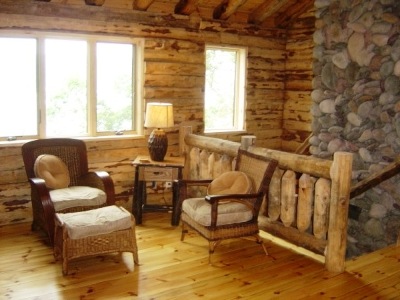 The Master Loft has the best view on the property. Most of our grounds are wooded with "glimpses" at the lake. We've thinned the trees so you can see the lake, but boaters can't see you. The loft view however is above the trees and a panoramic view of beautiful Skaneateles Lake. The sitting area is a great spot for your wifi enabled laptop or a place to listen to the sirius entertainment system.



LOWER LEVEL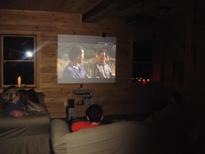 Home Theater -- ceiling projector, surround-sound, DVD, VCR ..... but sorry, no TV stations to ruin the experience. Movie library with over 75 DVD titles for kids and family. There's even three DVD Courses from "The Teaching Company" if you're interested in taking a college course while you're at the cabin. Loveseat, lazy boy recliner and ottomans. Popcorn provided. Walls are decorated with board games for your enjoyment.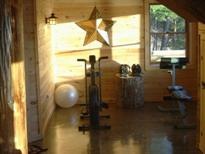 From this picture, you can see the light shine into the lower level. Practically the entire wall is glass with a beautiful view of the lake. There is a fitness area with weights, exercise ball and stationary bike. Most folks get plenty of exercise hiking around the property, but as a fitness enthusiast I keep the weights on hand so that people can stay with their workout routines while on vacation.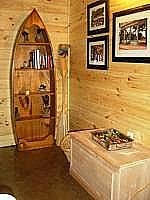 The lower level guest room has two twin sized log beds. We can arrange to have the beds centered together to create a more intimate arrangement. There is also a bathroom on the lower level with a shower. A washer and dryer closet with laundry detergent is provided as well.