RATES AND POLICIES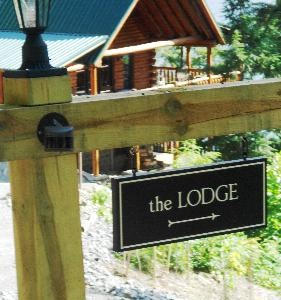 Weekly Early June -- Cabin $3500
Lodge $4000

Weekly Mid June -- Cabin $4000
Lodge $4500

Weekly July and August-- Cabin $5000
Lodge $5500

Weekly September Cabin $3000
Lodge $3500



**Holidays (Memorial Day, July 4th, Labor Day, Columbus Day and Thanksgiving carry an addition $500 per booking for these high demand dates)

Weekly October through May $2500 Cabin ($3000 Lodge)


WEEKEND/WEEKDAY RESERVATIONS

Mon -Fri (4 nights) or Fri-Mon Weekend (3 nights) -- is $1500 Cabin ($1750 Lodge) .


June thru August are weekly rentals only.



** rates do not include applicable lodging taxes

*** partial weeks available in the Spring and Fall only

RESERVATION PROCEDURE

We get so many requests, that we have to operate on a first come basis. Occasionally folks ask us to hold some dates but unfortunately this isn't possible. As you can see from our availability page, we sell out quickly. We mention this, because we don't like misunderstandings. Here's the procedure:

1. Check the availability page for dates that work for you. Once you've chosen your dates, email us confirming the dates and our mailing address. (paul@paulscabin.com)

2. Mail your deposit (50% of the rental rate) and drop us an email saying that the deposit is in the mail. Please enclose a cell phone number. At that time we will "hold" your dates.

3. Upon receiving your payment, we will promptly send a receipt and contract.

4. Remaining balance, contract and $1000 security deposit due 30 days prior to arrival. We recognize that your security deposit is your money -- not ours. We look forward to returning it promptly, minus the required tax. The deposit is an attempt to guarantee a quality experience for all of our guests. Security deposit is required on all rentals without exception.

5. Once the final deposit is received, we will email check-in/escort directions as well as a packing list and a Cabin/Lodge guest guide for your convenience.

POLICIES

1. Cancellation. We understand that emergencies come up. We will make every effort to rent the cabin and return your deposit if we are successful. (Cancellations incur a 10 percent administrative fee of the rental rate)

2. Saturday through Saturday weekly rentals in the summertime. (Monday thru Monday in Spring/Fall) Check out 10:00 AM check in 4:00 PM. Guest services will begin cleaning the exterior of the property at 9:00 AM on your departure day. We need 6 full hours to clean thoroughly. (you'll see why) Fall and Spring dates are somewhat flexible.

3. A personalized escort is scheduled to lead you to the cabin/lodge, disarm the security system and give you a "hands on" tour of the property. Escort appointments are scheduled for 4pm on the day of arrival. Arrival appointments different than 4pm must be coordinated with the guest relations manager and might incur an overtime fee if applicable.

4. For the comfort of all guests, there is no smoking permitted in the cabin. (Strictly enforced) Our security system can detect cigarette smoke and it will alert us.

5. Sorry, no pets. Ever. (not even my Mom)

6. Well behaved, supervised children are welcome. Please encourage your children to respect nature by leaving it exactly as they found it. Be cautious around the lake bluff and prevent the children from playing with the adult toys: spa/exercise equipment, pontoon boat and hoist etc.

7. Firewood and marshmallow sticks are provided, please do not disturb the forests.

8. No large groups (Cabin: 8 overnight guests; Lodge: 10 overnight guests maximum). We ask you to respect our neighbors by keeping noise to a moderate level. They will do the same for you.

9. Four wheel drive is encouraged in the summer and virtually required in the early Spring and late Fall. Two wheel drive cars won't get stuck, but they will spin and damage the road. For Paul's Lodge, an upper and lower parking area are provided. The lower area is restricted to four wheel drive. We have a three car restriction per property. There is no parking allowed at any spot along the private and public roads leading to Paul's Properties.

10. Mailed personal checks are welcome. Paypal is available for last minute reservations within two weeks of arrival.

11. For privacy and security reasons, we never "show" the property or "hint" at the address/location even though we have a sophisticated security system.

12. Security deposit will be withheld for damages to property, excessive garbage, violations of noise, trespass, parking or vandalism. Our guests have been great and we have had very few issues over time. If you're a rowdy group, Paul's Cabin and Paul's Lodge are not for you.

12. Internet is a problem at the remote properties. We have tried dial-up and satelite but both were too slow. We have now installed a wireless system which is quicker. Unfortunately we ask that you not download YouTube, NetFlix etc since they exceed our plan (and we use the largest plan offered).

13. We are very neat. We ask that you remove your shoes at the front door, not sit on the furniture with wet bathing suits and other common sense habits that you would use in a beautiful home. We also ask that you not re-arrange furniture, allow kids to throw rocks and hit trees with sticks. Please be gentle... very gentle.




Please read our FAQ page for more detailed explanations of the policies at Paul's Cabin.