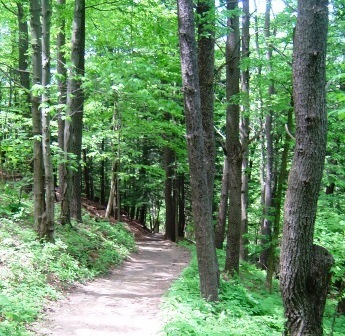 At Paul's Lodge, we tried to bring the outdoors ... indoors. The Lodge is smothered by the woods and out every window are thick, mature hardwoods. We incorporated large windows, colors, rock and textures that makes the guest feel as if he is part of the forest. The guest feels the conflicting urge to stay inside and get outside simultaneously.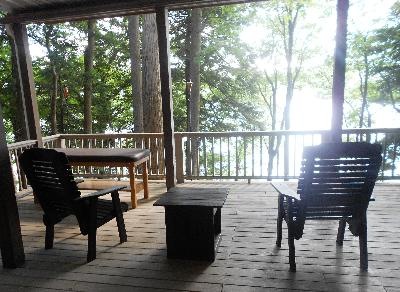 We realize that it rains occasionally. Nothing is worse than going on vacation to a beautiful lake property, only to sit inside all day. Consequently, we have plenty of covered porches and decks at both Paul's Lodge and Paul's Cabin.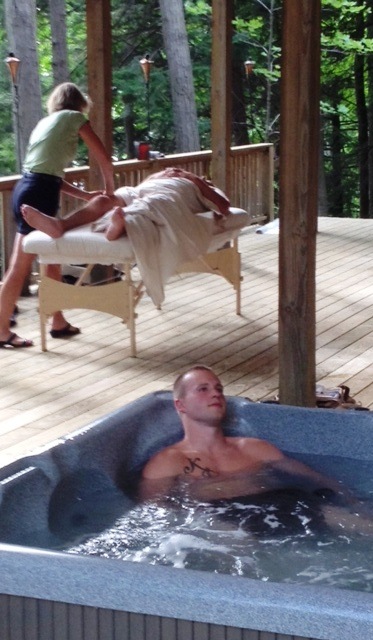 We built our spa to be outdoors, but covered. It's really a unique spa. So close to nature .... the trees, the lake breezes. Relaxing. Our spa includes a dry sauna, a hot tub, an outdoor shower and a massage table.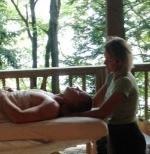 A massage table? Yes that's right. A wonderful table for couples to share their tender affections. If they desire professional massages, we have arranged for a great, professional massage therapist to come to the Lodge for you. Her contact information is given when you make your reservation. A great massage, in the midst of nature is a unique opportunity. Don't miss it.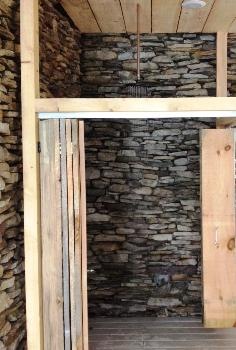 An outdoor shower? It's a tall rain head, surrounded by rocks. Pivot between the hot tub, sauna and shower to make your body happy. All the soaps and shampoos at the Lodge are ECO friendly.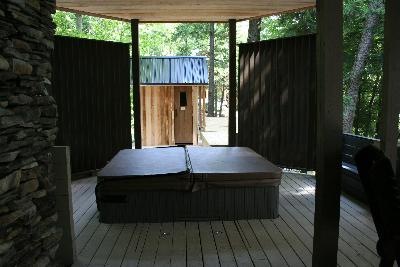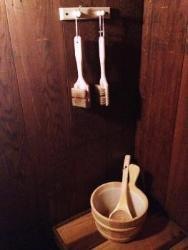 A dry sauna? We call it Aunt Marilyn's sauna. It used to be in Aunt Marilyn's basement. When she said she didn't want it anymore, we found the perfect place for it. It's a cedar sauna shed. Add water to the rocks or keep it dry. Sweat away the impurities. Don't worry, we've power-washed Aunt Marilyn's sweat away.

Directly off the kitchen on the main floor is a covered outdoor living room. We realize that occasionally it rains and our guests would still like to enjoy the outdoors. We built this spacious outdoor living space to be enjoyed year round. The space includes an outdoor fireplace, flat screen television and living room seating.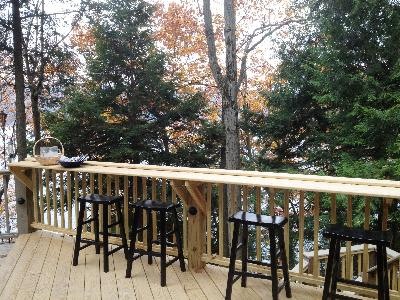 A lake and forest view bar is a wonderful spot to enjoy your morning quiet coffee or to organize the adults for an afternoon happy hour.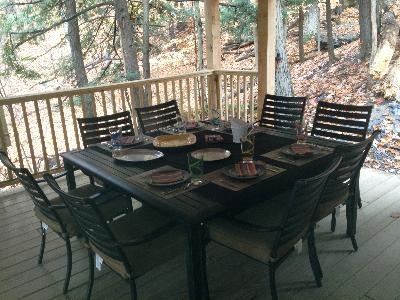 The outdoor dining table is covered by the porch roof. It's a large table with seating for eight. In all, the outdoor living space has seating for 25 people .... but that exceeds our guest number restrictions. But the space is divided into intimate areas for both small and larger groups too enjoy comfortably.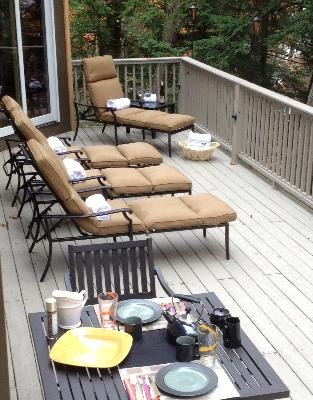 The chase deck extends out from the lodge and overlooks the lake. It's the perfect spot to lounge and feel the cool breezes of Skaneateles. You are also within earshot of the player piano.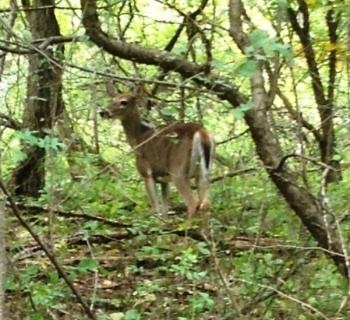 Overall, our outdoor living space is a sanctuary to enjoy both the forest and her wildlife and the majesty of Skaneateles Lake. Quiet, peaceful ..... absolutely breathtaking.

(this beautiful white tail was less than ten feet away from us)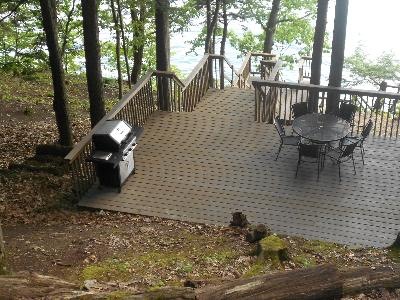 The Lodge is about 75 feet from the lake. About half way, is a lakeside deck. It's a neat picnic area with a second barbeque grill. It's the old grill, so you'll need a match to start it. But it serves its purpose.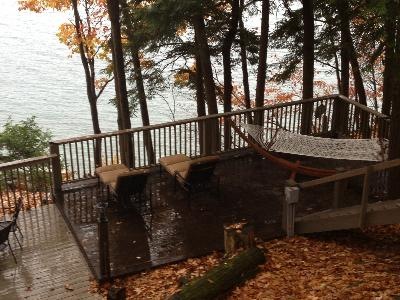 Adjacent to the picnic deck is the hammock deck. A great place to take a nice afternoon snooze while listening to the waves splash and the birds play.